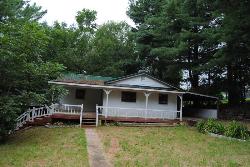 Bedrooms

3

Bath -

2
Washer / Dryer Hookups in basement

Heat -

Electric Baseboard
No Air

Flooring -

Hardwoods
Tile

Home has Carport, Basement and Garage

Large Back Yard

Water/Sewer

Town
Tenant is Responsible for Lawn Care and Snow Removal

NO PETS

Important Note - When you find a place you like, Call Blue Ridge Electric at 336-372-4646. See what the electric costs have been the previous year. Make sure you are good.

Please Read

RENTAL REQUIREMENTS


We require 1st Months rent and Deposit upfront. We Cannot Take Payments

We cannot rent to you if you have a Criminal Background, or Been Evicted.

We cannot rent to you if you have Drug Charges, and we require ID on all adult tenants

Good References and Proof Of Income Required

Rent must be paid in full and on time, we cannot work with you Or take partial payments
Dog Restrictions On All Properties - We cannot rent to you if you have the following type of dog .......
Akita Alaskan Malamute, Chow Chow, Doberman Pinscher, German Shepherd, Pit Bull, Presa Canario, Rottweiler, Siberian Husky, Staffordshire Bull Terrier, Wolf Hybrid
Pets may or may not be allowed, and require approval and pet deposits
Click Here For More Rental Property